EaseUS and QuickBooks Backups
Read this to make sure you're backing up your QuickBooks database properly. You want to be sure your QuickBooks database can be restored from a backup if something bad happens.
Here's the very specific scenario
You're running EaseUS Incremental backups to a USB backup drive and you use QuickBooks. This could be EaseUS Server backup and the database is on your server, or you use EaseUS Workstation backup and the QuickBooks database is on your computer. In these scenarios, the backups on the USB drive are mostly good, but the QuickBooks file can't be restored to a usable state.
If you have Full backups done to RDX drives, those QB backups can be restored in the event of a disaster. It's just the incremental backups of the live database that are a problem.
Here's the workaround
If you use QuickBooks to periodically make a backup, THOSE backup files can be backed up by your backup system and restored in the future if needed. So, we recommend that you use QuickBooks internal backup process to make (daily,recommended) backups of your QuickBooks data to wherever your data normally goes (the server or your computer, and optionally something else if you wish). This is good to do anyway, as it performs database checks and maintenance that should be run periodically.
Configure QuickBooks to do backups
Launch QuickBooks and log into your company file. (You'll have to do this process for each company file you use)
Click File / Back up Company / Create Local Backup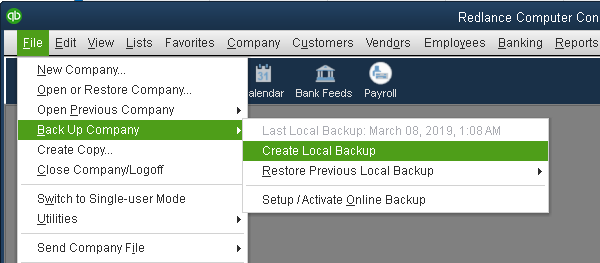 3. Chose Local Backup , then Options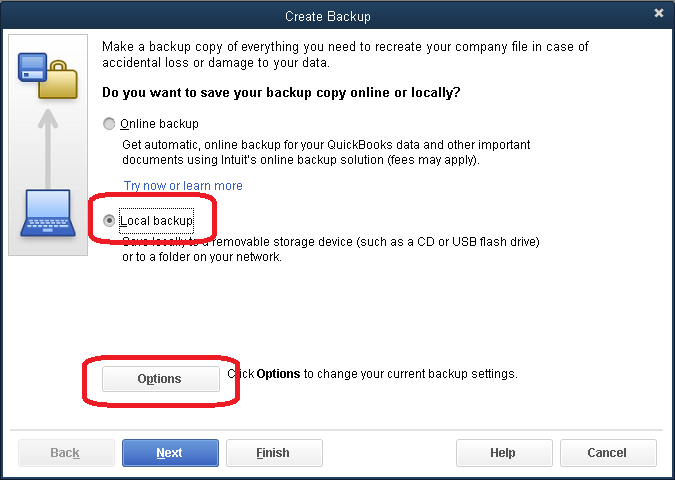 4. We'd recommend you place this backup in a "backup" sub-folder where your company files are stored. If you need help figuring out where this is, let us know and we can help.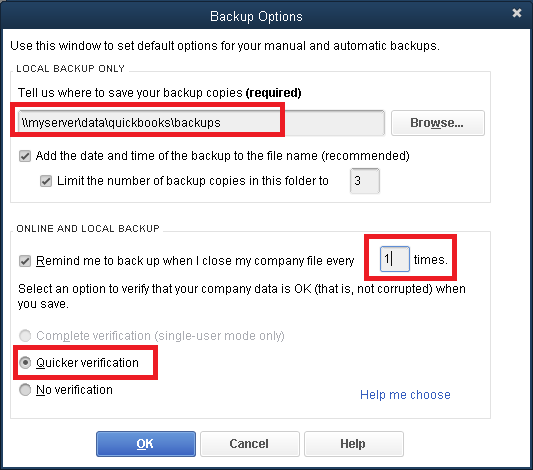 5. Set to back up every (1) time and choose Quicker Verification. This schedules the backup to remind you and do a back up every time you exit QuickBooks. You can change this if you wish, but be aware that you might not have recent backups the longer you go. Click OK.
You can leave the default options selected as "Add the date and time…" and "Limit the number… to 3".
6. If you get an error about the backups being stored where the company file is, that's OK. The backup system will back up the backup files.

Click Finish. Hit OK if you get a message about a remote computer.

Upon setting this up, it should immediately do its first backup. Then, you should either see a backup happen when you exit QuickBooks from now on, or you'll be prompted to run a backup.
Run the configured backup
Once you've configured the backup, you can either answer "Yes" when prompted or you can run a manual backup.
Either way, you should be able to see the backup happen and get a confirmation that it was successful.
To run a manual backup, click File / Back Up Company / Create Local Backup / Finish
You'll see a variety of things during the backup that look like this: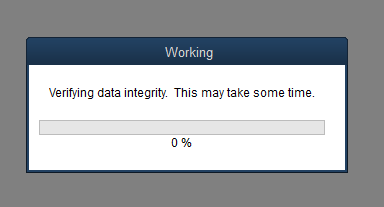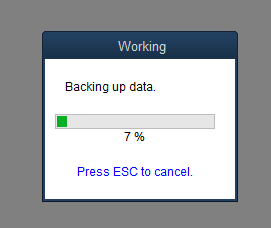 When the backup is complete you'll get a confirmation message like this:

If you get a message about deleting extra backups, click Yes, Delete

That's it! You now have a QuickBooks backup that can be restored if needed.
As always, if you have any questions if need assistance, please let us know asap.